ROLLING STONE CREDITS BELLAMY BROTHERS FOR EMERGENCE OF COUNTRY RAP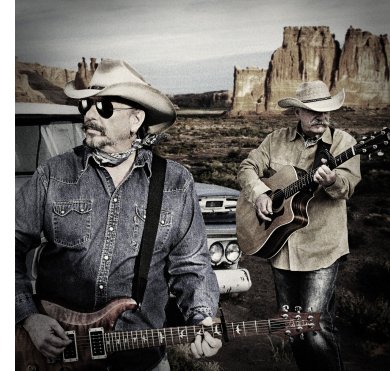 Nashville, Tenn. (June 30, 2014) – According to a new article from
Rolling Stone Country
, it may have been
David
and
Howard Bellamy
who originally instituted today's popular country rap or "hick-hop." Twenty-seven years ago when the
Bellamy Brothers
released their single, "
Country Rap
," they may have inadvertently set a whole chain of events into motion.
Howard
Bellamy notes, "I'm not sure if they're giving us the credit or the
blame but we did record 'Country Rap' in 1987. I guess we were ahead of
our time by 27 years."
In the Rolling Stone Country
article, the Bellamys' "Country Rap" (written and performed by David
and Howard Bellamy) is listed as the first event on a chronological
timeline of the evolution of "hick-hop."
Rolling Stone Country journalist Jewly Hight writes:
David
and Howard Bellamy came to country with a proclivity for incorporating
far-flung stylistic sensibilities. They dabbled in reggae early in the
Eighties, then reached Number 31 on Billboard's Country Singles chart in
1987 with "Country Rap." It was clear from the song's hook that the
brothers meant it as rap rap: "We got fatback/That's a fact/If you don't
know, that's a country rap." They chanted their agrarian-themed lyrics
in a sly, slack cadence over a seamless, funky groove, and even made
what sounded like an oblique reference to "Theme From Shaft."
"We
were bro-country when bro-country wasn't cool," says David Bellamy.
"But now I think we may be eating crow. In our new music video, 'Boobs,' we take a jab at country rappers. Oops."
(*Photo courtesy of the Bellamy Brothers)
About the Bellamy Brothers
Throughout their 39 years in the music business, the multi-platinum selling Bellamy Brothers have charted 15 #1 hits on the US country and pop music charts. Hits like "Let Your Love Flow," "If I Said You Had A Beautiful Body (Would You Hold It Against Me)," "Redneck Girl," and "Old Hippie"
are the songs that helped to make the brothers household names. Today,
their seamless harmonies remain perfectly intact as they continue to
travel the United States and international tour circuits, performing
over 150 dates each year. Rolling Stone recently included the Bellamy Brothers classic "Old Hippie" on their list of the 100 Greatest Country Songs of All Time. "Let Your Love Flow" was named on BMI's list of Top 100 Songs of the Century and "If I Said You Had A Beautiful Body (Would You Hold It Against Me)" was chosen by The Boot as the #1 Top Pickup Line in Country Music.