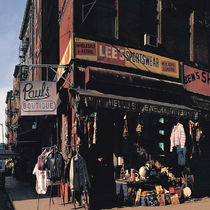 BEASTIE BOYS veröffentlichen Vinyl-Re-Issue von "Paul's Boutique"
Es
gilt als Meilenstein des HipHop-Genres und wurde in diversen
renommierten Bestenlisten unter die besten Alben aller Zeiten gewählt: "Paul's Boutique", das zweite Album der Beastie Boys erscheint nun als Vinyl-Re-Issue, neu gemastert und in feinster Sound-Qualität.

"Paul's Boutique"
wurde 1989 veröffentlicht und beinhaltete revolutionäre 105 Samples,
was die Herangehensweise im HipHop an das Sampling neu definierte.
Gesampelt wurden Songs von Musikern und Bands wie The Beatles,
Pink Floyd, Curtis Mayfield, Commodores, The Isley Brothers, Johnny
Cash, Led Zeppelin, Ramones, Sly & the Family Stone, The Band oder James Brown.

Die Neuauflage erscheint am Freitag auf Vinyl.