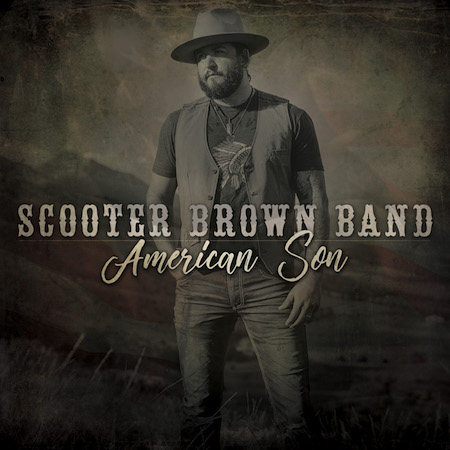 SCOOTER BROWN BAND'S DEBUT STUDIO ALBUM, AMERICAN SON, AVAILABLE TODAY
Band Celebrates Release of Country and Southern Rock Project with Performances in NYC
NASHVILLE, Tenn. (September 8, 2017) – Scooter Brown Band releases their debut nationally distributed album today,American Son, including the title-track featuring Country Music Hall of FamerCharlie Daniels. The project,released by Red River / BFD / Sony Orchard can be found at listeners' digital retailer of choice throughwww.scooterbrownband.com.
The
band is headed up by American Veteran Scott "Scooter" Brown and
includes members from Nashville and Texas putting their unique spin on
country and southern rock music. They are on the road playing for fans
around the country with 100 plus shows a year both headlining and
opening for iconic acts like the Charlie Daniels Band, Travis Tritt, Lee
Roy Parnell and the Marshall Tucker Band. SBB celebrated the release
last night with a pop up show in Times Square documented byNYCountrySwag.comand a fan appreciation show at Lucille's at B.B. King's NYC. They will
continue on a North East run with the Charlie Daniels Band through the
weekend.
"I've never been more excited to release a new record as I am onAmerican Son.
We have an amazing team of people behind us at the label and are
thankful for Bob Frank for giving us this opportunity. We are so
grateful for our manager, David Corlew, who saw our vision and believed
in it. We lived the songs, wrote the songs, recorded the songs and
performed the songs. I couldn't be more proud of this collection of
music," said lead singer Scooter Brown.
American Son Track Listing
1. American Sonfeat. Charlie Daniels
2. This Town
3. Won't Back Down
4. Never Met a Heart I Wouldn't Break
5. Pistols and Pearls
6. Broken Arrow
7. Georgia
8. Story of My Life
9. Guitars, Gun and Whiskey
10. Time is Money
11. Rise Up
12. New York City King Size Rosewood Bed
13. Huntsville
Scooter Brown Band Tour:
Sep. 8 – Ridgefield, CT – The Ridgefield Playhouse w/ Charlie Daniels Band
Sep. 9 – Webster, MA – Indian Ranch w/ Charlie Daniels Band
Sep. 13 – Conroe, TX – Game On Sports Bar
Sep. 14 – Austin, TX – Emo's Austin w/ Whiskey Myers
Sep. 15 – Waco, TX – The Backyard – Waco w/ Whiskey Myers
Sep. 22 – Stillwater, OK – Tumbleweeds w/ Whiskey Myers
Sep. 23 – Hays, KS – The Fox Pavillion w Whiskey Myers
Sep. 29 – Venice, NE – Buck's Bar and Grill
Oct. 1 – Sioux City, IA – Tyson Events Center-Southern Uprising w/ Travis Tritt, Charlie Daniels & Lee Roy Parnell
Oct. 5 – Woodstock, GA – Madlife Stage & Studio w/ The Outlaws
Oct. 7 – Savannah, GA – Stage On The Bay w/ The Outlaws
Oct. 13 – New Braunfels, TX – Gruene Hall
Oct. 20 – Rocky Mount, VA – Harvester Performance Center w/ Charlie Daniels
Oct.
21 – Cary, NC – Carolina Uprising Southern Rock Festival – Koca Booth
Amphitheater w / Charlie Daniels, Marshall Tucker, The Outlaws, Pure
Prairie League and Poco
Oct. 22 – Asheville, NC – Thomas Wolfe Auditorium / Marshall Tucker Band
Nov. 11 – Spring, TX – Barebacks – Spring Texas Music Fest w/ Jamey Johnson
About Scooter Brown Band
After
4 years and 3 months, 2 tours overseas with 1 tour of combat in Iraq as
a United States Marine, Scott "Scooter" Brown traded his guns in for
guitars and hit the road. The Scooter Brown Band was formed and began
playing mainly in and around Houston, Texas. Along with their growing
notoriety came their first radio single "Apology." Other regional radio
releases were soon to follow and include "Whiskey Talkin", "Soldiers
Christmas Eve", "Feels Like Home,", and "Summer Song". The band has
released a number of independent albums, strengthening their chops in
the studio, however they truly shine in their live show. SBB has toured
the country and opened for some of their biggest influences including
Charlie Daniels Band, Travis Tritt and the Marshall Tucker Band, just
to name a few. For the last year the band has been building a new era in
their career, gearing up for the release of their newest projectAmerican Son — defining modern southern rock.
For more information, please visitscooterbrownband.com. To keep up with the Scooter Brown Band on social media, follow them at@scooterbrownbndonTwitter&Instagramand onFacebook.