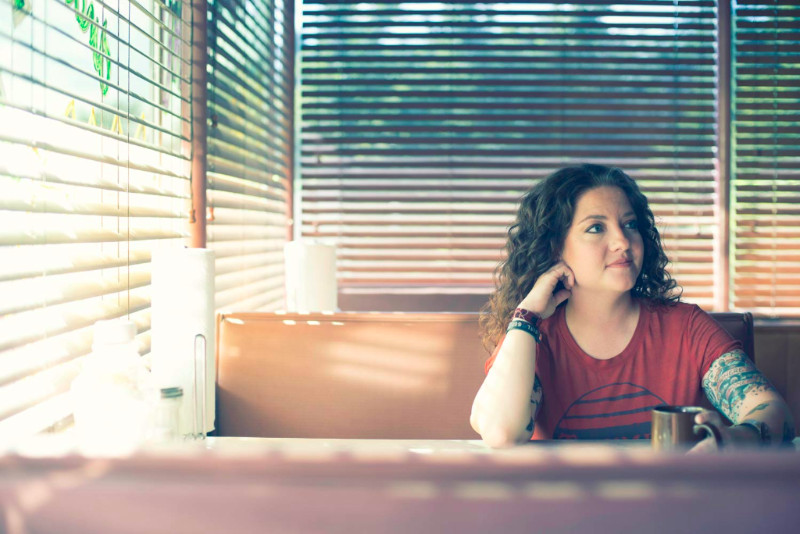 ASHLEY MCBRYDE'S "A LITTLE DIVE BAR IN DAHLONEGA"
MUSIC VIDEO PREMIERES TODAY ON
CMT/CMT.com
Video for hit SiriusXM "Highway Find" captures a "double down dreamer" "gunnin' for the brighter lights"
McBryde shares story behind "A Little Dive Bar In Dahlonega," here
Nashville, Tenn. – Ashley McBryde, the fierce singer/songwriter who The Tennessean vows is "worth discovering" and Rolling Stone
calls a "Arkansas red-clay badass, with the swagger of Hank Jr. and the
songwriting of Miranda Lambert," recently made her Grand Ole Opry debut
with her heartrending ode-to-self, "Girl Goin' Nowhere,"
which she released last month due to demand. She also performed her
emotive single, "A Little Dive Bar in Dahlonega," that night, a song
that has consistently hoovered in the Top 5 of SiriusXM's "The Highway's
Top 30." Today, the video makes its video debut on CMT and CMT.com
in a poignant narrative that was filmed in Watertown, Tennessee, the
small town just outside of Music City where the Arkansas-native
currently calls home.
McBryde co-wrote "A Little Dive Bar In Dahlonega" with Nicolette Hayford and Jesse Rice,
sharing "We had all had a really bad day. Not 'one of the worst days
of my life,' but I had one of those days where nothing was going
right. I got a crack in my windshield on my way to work, I got sick, and
had broken a guitar string all within an hour and a half. On top of
that my co-writer, Jesse, was late, but bless his heart, when he walked
in we could tell he had had a night and a morning that was just as rough
as ours. That's how we got on the subject of having the worst day ever,
and that's when Jesse started talking about his car breaking down in
Dahlonega, GA."
So, when it came time to capture the essence of the song, McBryde turned
to director and filmmaker, ACM Video of the Year award-winner Reid Long
(Eric Church's "Mr. Misunderstood"), who slated many of McBryde's
friends as extras in the performance scene at the bar just down the road
from where that tattooed 33-year-old lives since moving to middle
Tennessee by way of Memphis 11 years ago.
"I am really excited and proud that we were able to film it in the
Watertown/Lebanon area with real people, having a real-good time,"
McBryde adds. "Reid was really able to capture the energy surrounding
this song, because you can't fake something like that."
McBryde began making headlines while working as an independent
singer/songwriter due to her raw lyrics and vocal prowess and has since
been tapped to open for the likes of Eric Church, Willie Nelson, and
Chris Stapleton.
"A Little Dive Bar in Dahlonega" and "Girl Goin' Nowhere" are a taste of
McBryde's highly anticipated upcoming album produced by Jay Joyce.
McBryde is set to finish off summer with festival performances across
the country before joining Church and The Brothers Osborne on the road
for select dates in September.
"A Little Dive Bar in Dahlonega" was also added today to CMT's Next Women of Country Spotify playlist and is available for purchase here.
"Girl Goin' Nowhere" is available for purchase here.
Learn more about McBryde at AshleyMcBryde.com or follow her on Facebook at https://www.facebook.com/AshleyMcBryde, Instagram @ashleymcbryde and Twitter at @AshleyMcBryde.
# # #
Ashley McBryde YouTube playlist: http://bit.ly/2sOXOBY
Ashley McBryde YouTube channel: https://www.youtube.com/ashleymcbryde
"Little Dive Bar In Dahlonega" buy/streaming link: http://smarturl.it/dahlonega
"Girl Goin' Nowhere" buy/streaming link: http://smarturl.it/girlgoinnowhere
CMT Video link: http://bit.ly/2tFlidQ
Credit: John Peets Photograph
Credit: John Peets Photograph