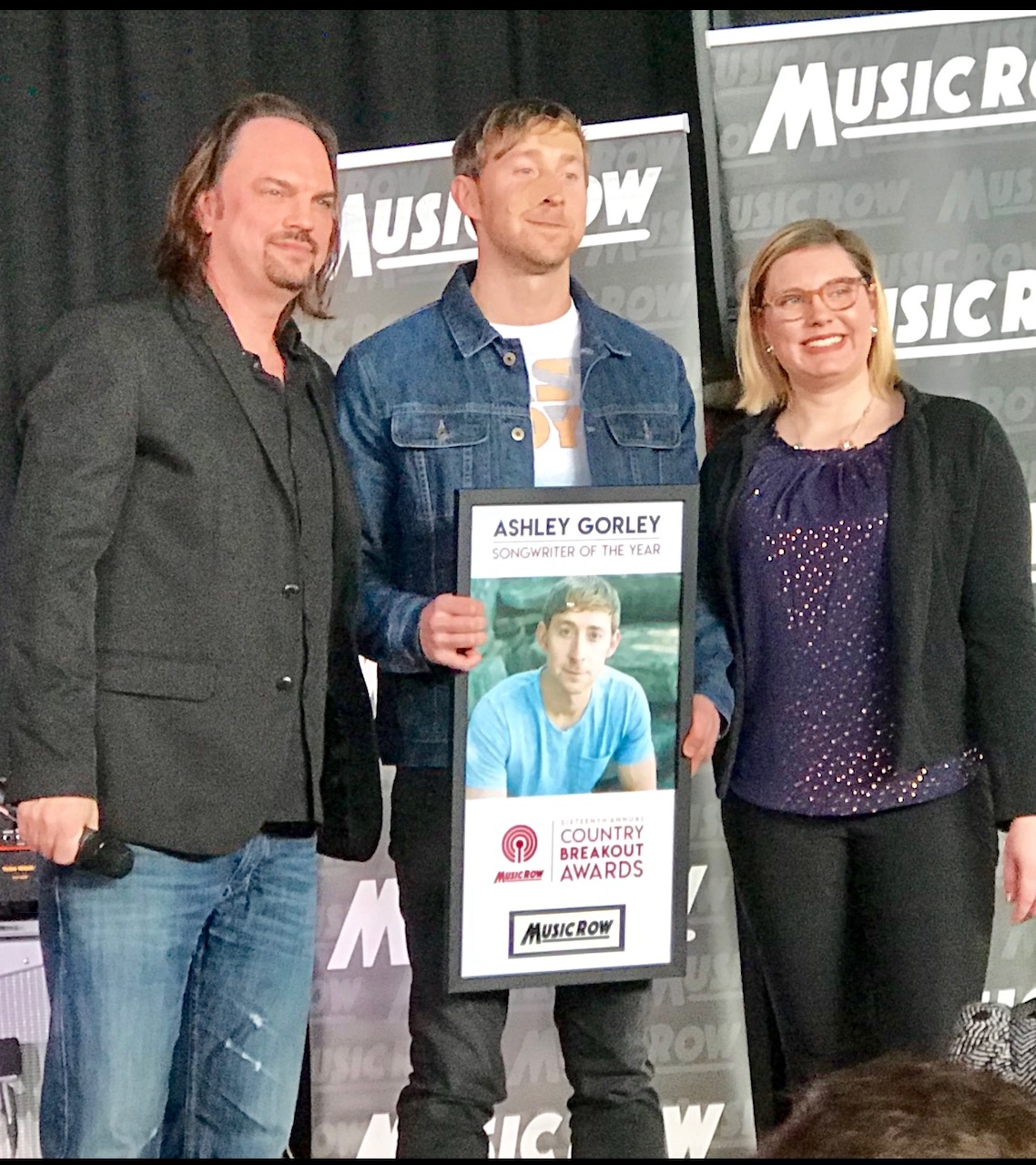 Ashley Gorley named Songwriter of the
Year
Blake Shelton, Kelsea Ballerini,
Florida Georgia Line also win top awards
By Preshias Harris for Country Music News International
Ashley Gorley has received yet another
honor. At the MusicRow Magazine's 16th annual Country
Breakout Awards, Gorley received the Songwriter of the Year Award. The award goes annually to the songwriter with
"the most songs that commanded country radio in … secondary markets," according
to MusicRow Publisher and Owner, Sherod Robertson. It was Gorley's
second consecutive win.
The Awards ceremony was part of MusicRow's
annual 'Country Radio Meet & Greet' held at the Listening Room Café in
Nashville. As before, it was held during the first day of the Country Radio
Seminar (CRS). Although it is not part
of the official CRS program, the event always attracts large numbers of radio
air personalities and program directors, as well as members of Nashville's
music community.
Seven Number Ones in 2017
Gorley was honored for the remarkable
achievement of co-writing seven Number Ones on the 2017 MusicRow charts.
Among those songs: Blake Shelton's "A Guy With a Girl" that was Gorley's 30th
Number One as a writer.
Gorley's other MusicRow Number Ones
for 2017: Thomas Rhett's "Unforgettable," Jon Pardi's "Dirt On My Boots,"
Dierks Bentley's "Black," Chris Janson's "Fix A Drink," Brad Paisley's "Today"
and Billy Currington's "Do I Make You Wanna."
Gorley is also the only songwriter to have received the ASCAP Songwriter
of the Year Award five times, a record that he set in 2017.
A native of Danville, Kentucky, in 2011
Gorley partnered with Combustion Music and Warner/Chappell Music to start up
Tape Room Music, his own music publishing company.
Blake, Kelsea Artists of the Year
At the Country Breakout Awards, Blake
Shelton earned the Male Artist of the Year Award for more spins than any other
male artist on the MusicRow Country Breakout Chart, achieving 83,208
spins reported by stations on MusicRow's panel. His spin total included
three No. 1 hits on the Country Breakout chart: "I'll Name The Dogs," "A Guy
With A Girl" and "Every Time I Hear That Song."
Kelsea Ballerini was recognized as Female
Artist of the Year with 80,928 reported spins. Kelsea had two No. 1s on the MusicRow
Country Breakout chart with "Legends" and "Yeah Boy." This was Kelsea's second
consecutive win in this category.
FGL get 4th win;
Combs, Owens honored
The Group/Duo of the Year Award went to
Florida Georgia Line for the fourth consecutive year with 76,938 spins in 2017.
FGL's Brian Kelley and Tyler Hubbard topped MusicRow's chart with
"Smooth" and also with "God, Your Mama and Me," a collaboration with Backstreet
Boys.
Luke Combs received the Breakout Artist of
the Year Award. Combs' songs, including the Platinum-certified hit "Hurricane,"
racked up 78,978 spins on reporting stations. His debut album, 'This One's For
You,' has already been certified Gold by RIAA.
Shane Owens took home the Independent
Artist of the Year Award, gaining more spins than any other indie artist in
2017 with a total of 33,428 spins. Owens' songs, including "19" helped him lead
the pack of independent artists.
Capitol Records Nashville locked in an
unassailable 14th win as MusicRow's Label of the Year. The
UMG imprint scored 457,962 spins in 2017 with airplay from artists such as
Darius Rucker, Dierks Bentley, Keith Urban and Carrie Underwood.
The annual MusicRow Country Breakout
Awards go to artists, songwriters and labels that have achieved the most spins
as reported by secondary market radio stations that report to the MusicRow
Country Breakout chart.
Full details and more can be found in the
February/March issue of MusicRow magazine and online at www.musicrow.com