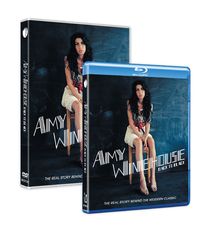 Amy Winehouse
– Neuer Dokumentarfilm über die Entstehung von "Back To Black"
Das unvergessliche Werk "Back To Black" von Amy Winehouse verschaffte ihr den großen internationalen Durchbruch. Die Entstehung dieses Meilensteins beleuchtet der brandneue Dokumentarfilm "Amy Winehouse – Back To Black". Die DVD/Blu-ray zeigt unveröffentlichte Interviews mit Amy Winehouse und ihren Produzenten Mark Ronson und Salaam Remi. Außerdem bietet sie mit "An Intimate Evening in London" bislang ungesehene Liveaufnahmen.

"Back To Black", das zweite und letzte Studioalbum von Amy Winehouse,
erschien vor 12 Jahren und wurde zu einem der wichtigsten
Pop-Meilensteine des letzten Jahrzehnts. Die britische Sängerin konnte
mit ihrem einzigartigen Stimmklang überzeugen: Sechs Grammy Awards
gewann sie mit dem Album.