ACADEMY OF COUNTRY MUSIC HONORS
LARRY GATLIN & THE GATLIN BROTHERS
WITH COVETED CLIFFIE STONE PIONEER AWARD
Gatlin Brothers Join Garth Brooks As 2011 Recipients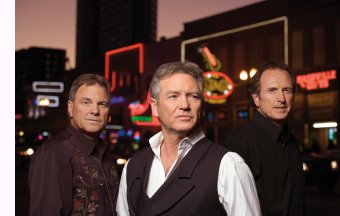 Nashville, Tenn (March 29, 2011) – Today, the Academy of Country Music announced the winners of its 2011 Cliffie Stone Pioneer Award. Accepting this year is country music's legendary harmonic brotherly trio, Larry Gatlin & the Gatlin Brothers, alongside the iconic Garth Brooks
.
"Steve, Rudy and I are so very grateful to the Academy for this incredible honor. The Academy was a very important part of our career from the far beginning, so it seems that 'the circle is unbroken," says Larry Gatlin. "P.S., congrats to Garth. We think he has a great future 'in the business.'"
The Cliffie Stone Pioneer Award honors individuals who are pioneers in the country music genre. Past recipients include Alabama, Johnny Cash, Merle Haggard, George Jones, Loretta Lynn, Willie Nelson, Dolly Parton, Charley Pride, Kenny Rogers, Mel Tillis, Conway Twitty, Porter Wagoner, Charlie Daniels, Hank Williams, Sr., and Hank Williams Jr.
The close family harmonies of Larry, Rudy and Steve Gatlin gave the trio a signature sound that led to country classics like "Houston (Means I'm One Day Closer To You)." The brothers won a GRAMMY Award for their 1976 breakthrough hit, "Broken Lady," and reached No. 1 with "I Just Wish You Were Someone I Love" two years later. Along with five career nominations for the ACM Vocal Group, the Gatlin Brothers picked up three 1979 trophies – Single ("All The Gold In California"), Album (Straight Ahead) and Male Vocalist for Larry Gatlin, also a talented songwriter who composed all of the group's singles. To date, the brothers hold 36 Top 40 Hits to their credit.
The Gatlin Brothers and Brooks will be presented with their awards on a to be announced date in Nashville later this year.
For more information on the Gatlin Brothers, visit www.gatlinbrothers.com.