41st ANNUAL JAMBOREE IN THE HILLS CELEBRATED COUNTRY MUSIC WITH 4-DAY MUST-SEE LINEUP IN OHIO (7/13-16)
Headliners
Thomas Rhett, Jason Aldean, Lady Antebellum, And Sawyer Brown, Kept The
Ultimate Party Going Alongside Country's Past, Present And Future Stars
Introduced Electric "Jambo After Dark" After-Party and
Luxe "Jambo Glam" Lodging To Festival Traditions

Photo Credit: Ryan Pavlov / Jamboree In The Hills
Nashville, Tenn. (July 19, 2017) – Jamboree In The Hills
returned for its 41st year in Morristown, Ohio, to the delight of
generations of returning fans and eager new faces alike on
Thursday-Sunday (7/13-16). Each year the small town in Belmont County
turns upside down for campers traveling from all over the U.S. to
experience a four-day Country music party unlike any other.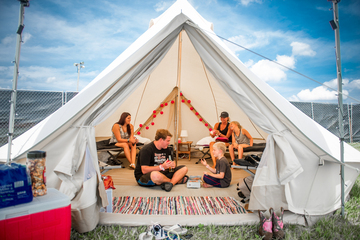 Headlined by Country's hottest stars including multi-PLATINUM Thomas Rhett (Thursday), two-time and reigning ACM Entertainer of the Year Jason Aldean (Friday), seven-time GRAMMY award-winning trio Lady Antebellum (Saturday), and with more than 50 hit songs Sawyer Brown
(Sunday), alongside red-hot performers such as Kelsea Ballerini, Chris
Young, Brothers Osborne, RaeLynn, Kane Brown, and Brett Young, JITH yet
again proved why it's one of the longest-running and best-loved summer
Country festivals in the world.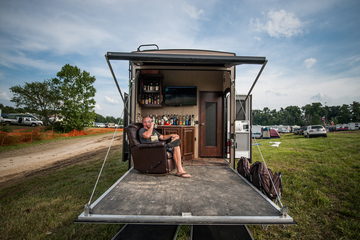 In
addition to high-energy performances of hit Country songs of the past
and present, special moments included Chris Young (alongside Shane
Owens) stopping by the campground to surprise an estimated 1,000 guests
during the festival's first year of their "Jambo After Dark" after-party
and Country music legend Tanya Tucker returning to the JITH stage after
making her first appearance in 1983. The spectacular Friday night
fireworks display also had guests of every age reminiscent of years past
as it spanned a montage of JITH performances starting in 1977 through
this year.
Deeply
rooted in cherished traditions, JITH continued one-of-a-kind
fan-favorite rituals such as their "Redneck Run" each morning – giving
guests the chance to line up early and race to claim their prime concert
spot for the day. A creative cooler contest also took place which fans
impressively start building their own custom coolers a whole year in
advance to compete for the ultimate prize.
"The
best part of Jamboree In The Hills is the fans. Their deep-rooted love
of this historic festival shines through in every aspect of its
traditions," shares Kelly Tucker-Jones, General Manager – Jamboree In
The Hills. "This festival is more than Country music, Jamboree In The
Hills is family and friends from the staff to the fans – we all feel
like we are one unit that gets to spend the best weekend of the year
together year after year!"
From
decked out campers to personal swimming pools, the lively campsite of
trailers even housed enclosed "Jambo Glam" lodging for the first time
this year – offering powered "glamping tents" which were equipped with a
hospitality staff and exclusive access to air-conditioned restrooms,
showers, a well-stocked lounge area with snacks and morning coffee, and a
community gas grill.

Jamboree
In The Hills 2017 was co-presented by WTOV9, WOVK-Wheeling,
WPGB-Pittsburgh, WCOL-Columbus and iHeart Country. To find out more
about the festival, please visit www.jamboreeinthehills.com and Facebook.